» Forum » Motorsport » Scuderia Ferrari
Page 23 of 67
#331
RE: Scuderia Ferrari
by
Jalumi
18.12.2013 12:18
Let him speak with the medias and Kimi speak on the track
#332
RE: Scuderia Ferrari
by
WHATEVER
18.12.2013 13:24
Exactly!

Ferrari will miss Massa


It's more likely for him to miss Massa, not Ferrari. With the Constructor points Kimi makes, Ferrari will be asking: Massa who?

But Alonso instead will no longer have a puppet for partner, that he can manipulate to his liking. Making him do all the hard work and using him as a step for him to be higher.

And when Kimi starts winning without saying it was only because of his driving, and even losing without putting the blame on others. Ferrari will be asking: Alonso who?
#333
RE: Scuderia Ferrari
by
Olga
18.12.2013 15:26
great post W


and here's more pics of Spagnolo!!!!!!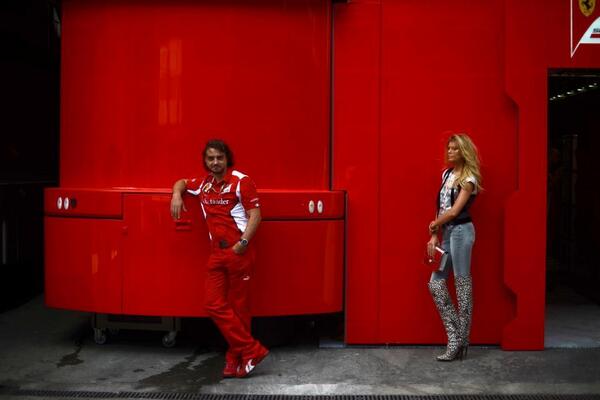 seems like a fun guy!
#334
RE: Scuderia Ferrari
by
WHATEVER
18.12.2013 20:43
A forumer at the Kimi Raikkonen's forum just posted this:


quote

---

Ghibli wrote: Ho avuto la fortuna ieri di vedere Kimi a Maranello. Mi è parso molto in forma dopo l'operazione. In Ferrari sono tutti molto ansiosi di lavorare con lui. Almeno mi pare di capire che sia questo l'umore. Credo sia il caso di dimenticare Alonso e concentrarsi solo Kimi. Lo attende una grande sfida.

---


Quick translation:

quote

---

Yesterday I was lucky enough to see Kimi in Maranello. It seemed very fit after the operation.
At Ferrari everybody is eager to work with him. At least I understand that this is the mood.
I think it is appropriate to focus only on Kimi and forget Alonso. It attends a great challenge.

---


Or something like that
#335
RE: Scuderia Ferrari
by
Jalumi
20.12.2013 08:13
quote

---

Presentation of the new Ferrari power unit
Maranello 19 December – The engine which Scuderia Ferrari will use in 2014 is called the 059/3. A three dimensional preview of the powertrain that will be fitted to the Maranello Formula 1 cars as from next year, was shown today to a select group of Italian and international media, in Maranello for the traditional pre-Christmas meeting with President Montezemolo.

"As a result of the 2014 regulations, we no longer talk of engines, but of power units," explained the Head of Engines and Electronics, Luca Marmorini. "It's a very complex project and we have been working on it for the past two years. It's a 1600 cc turbocharged internal combustion engine and only 100 litres of fuel can be used in a race, which means that the more efficient an engine, the more power it can use. Along with the turbocharger, there will be an electric motor, which will also act as a generator, allowing for the recovery of energy from the exhaust gasses. As was already the case, a second electric motor will recover energy from braking, although it will be able to put out almost double the power of the one currently in use. All the energy generated by the electric motors will be stored in a much bigger and more powerful battery pack than the current one, but it will still be fitted below the fuel cell. The electronic control system will be even more sophisticated to coordinate and manage all these new electro-mechanical devices. A new regulation, a fascinating challenge, which places great emphasis on energy recovery and on the efficiency of the power unit."

Marmorini called up on stage with him those who had coordinated the various areas of the project: Mattia Binotto (deputy head of engines and electronics,) Enrico Gualtieri (engine reliability,) Guido Di Paola (engine design,) Dave Salters (testing,) Daniele Zecchetti (advanced systems development,) Stefano Lovera (electronics) and Thierry Baritaud. Through them, Marmorini wanted to thank all the staff for their efforts on the 059/3, but above all to spur them on to give their utmost for what it is to come in the near future: the adventure of the new powertrain has only just begun.

The presentation, which was set up inside the logistics pavilion, got underway with a look back at the past, through photos, engines and the most important cars from over sixty years of the Scuderia's Formula 1 history, before symbolically bringing together this year's F138 and the Corsa Indianapolis, the single-seater that was produced in 1953 to take part in the Indianapolis 500 Miles, so that past and present led the way to the future.

Published on: 12/19/2013

- See more at: http://formula1.ferrari.com/news/present...h.ks5HVjrK.dpuf


---
#336
RE: Scuderia Ferrari
by
Jalumi
20.12.2013 08:20
I found another picture with Kimi and his new ingenieur. I´m happy they know each other and are no strangers.


1451313_253038068185622_198247805_n.jpg - Bild entfernt (keine Rechte)
#337
RE: Scuderia Ferrari
by
Olga
20.12.2013 08:24
#338
RE: Scuderia Ferrari
by
miezicat
20.12.2013 12:21
Monte has spoken..

http://sportbild.bild.de/SPORT/formel-1/...mit-vettel.html

"We got Kimi because we wanted a fast driver with a lot of experience. He knows he is in his second half of his career. He is especially strong in races and can take away points from Fernando's rivals. Kimi's presence will be important that Alonso won't be left alone in his fight for points."


about Vettel: "Vettel is very fast, focussed, wants to win. I like his attitude: no mananger, no politics. That's a good approach." but: "I have many problems. The number 1 driver is not one of them. I like Vettel as a person but we don't have plans with him. In 2 years we can talk about that again."

about Alonso: "Fernando knows he is not driving for himself but for Ferrari. His biggest achievement was to get second with a car that was not second best in the second half of the season. At times he was frustrated because of that. This I can understand. But it is impartant that you not only win together but also lose together. Michael has shown from 1996 to 1999 how this is done."
he doesn't think Alonso will go to McLaren as Ron Dennis indicated:
"Unfortunately I can't debate with my friend Ron. That was good for the press. But Fernando has a contract till 2016. My only sorrow is to give him a better car."
#339
RE: Scuderia Ferrari
by
Jalumi
20.12.2013 12:27
What means "second half of his career"? Be is only 2 years older than Nando!


Its interesting. In the German press they read out of Montes comment Kimi will be number 2 next year
#340
RE: Scuderia Ferrari
by
icemaid
20.12.2013 12:28
Damn LdM!


I hope Kimi knows what he is doing.

Win the WDC in 2014, show them!
#341
RE: Scuderia Ferrari
by
WHATEVER
20.12.2013 14:46
Just pray for a good and reliable car, Kimi will do the rest.
#342
RE: Scuderia Ferrari
by
Boudica
20.12.2013 15:36
Hmm I was still struggling to get excited about Kimi's move to Ferrari. I just dont trust Ferrari or in particular Montezemolo. The Lotus situation were frustrating at the end but generally they were much more transparent then Ferrari. Ferrari are more devious. I just dont like seeing Kimi back there. But it seems like Kimi unfortunately didn't have much choices if he wanted to stay in F1. I just hope Domenicali can show more backbone this time around.
#343
RE: Scuderia Ferrari
by
miezicat
20.12.2013 16:34
quote

---

Together means stronger

Maranello, 19 December – One of the Scuderia's strong points when it comes to taking on the challenge of 2014 comes from the fact that the power unit and the car to which it will be fitted, are developed together, symbolically under the same roof. In fact, Ferrari is the only team which, since 1950, has year after year been able to make the most of this situation, which only occasionally has it shared with other constructors. The Scuderia's Technical Director, James Allison is well aware of that fact, as he has first hand experience of what it means for a designer to be in both the situation enjoyed by Ferrari and also that of the majority of the Prancing Horse's competitors.

"Being able to build the engine and chassis together is definitely a nice advantage for Ferrari," said James at the presentation of the 059/3. "Other teams cannot do the same and this year, like never before, installing the new power unit in the car's chassis will be a complex operation. I've got direct experience of that from my time at Lotus: it's true the engine supplier tries to meet your demands, but it's never the same thing as happens here, where there is a historical culture relating to a common task of defining and developing the design of the new car."

"We have worked side by side with our chassis colleagues over the years," added Marmorini. "Precisely because we know there is no point in we engine engineers pushing too much emphasis on our single project if then it doesn't adapt to a winning car. This is the case not just as far as the engine is concerned, but also relates to all the other elements of this powertrain which, as you can understand, is much more complex than in the past."

"All I can say is I agree with Luca," concluded James. "That argument also holds true for an element which, in recent years has been the centre of attention, namely the exhausts. Blowing them offered interesting technical challenges, but I have to say that, personally, I am pleased they have been eliminated and that we can go back to designing exhausts aimed at getting the most out of the power of the engine."
- See more at: http://formula1.ferrari.com/news/means-s...h.dr8Qc4m1.dpuf

---
quote

---

Internet hits to choose name of new F1 car

Maranello, 20 December –The name of the Scuderia's car for 2014? It will be chosen this coming January by millions of Ferrari fans from around the globe through the Internet. President Luca di Montezemolo announced the news at the traditional pre-Christmas dinner with the Italian motor sport media at the Fiorano circuit.

Ferrari has always made good use of its website, and indeed the Scuderia was the first F1 team to present its new car on line, back in 1996. Once again this year, the new car launch proved very popular, with 83,000 all on-line at the same time, a figure almost equal to those who watched the wedding of William and Kate live (87,000) from 158 different countries.

The Scuderia's official Facebook page, which has only been up and running for a few months, this morning at 6.15 CET reached the 500,000 liker mark thanks to Giovanni Refugia Arceo from Colombia, while the company page has sailed past the 12.5 million mark. @insideferrari, the official Twitter account which, among other things, allows one to follow a race weekend in real time from inside the Maranello marque's garage, has over 670,000 followers.

The Scuderia's website has comfortably exceeded 10 million pages visited (+13.5% compared to 2012) and had 3.5 million individual visitors (+28%) while hits have grown by 20% from 4.5 to 5.5 million. Visitors have come from 227 countries: Italy still leads the way, followed by Great Britain, Spain, USA and Brazil, but there are also plenty of fans in the Central African Republic and Tonga. Of the most significant increases, Finland has gone up by 554%. Indeed the news concerning the return of Kimi Raikkonen was the most clicked-on of the year (166.119 hits.)
- See more at: http://formula1.ferrari.com/news/interne...h.lAsOOxGP.dpuf

---
#344
RE: Scuderia Ferrari
by
Sonny
20.12.2013 17:45
Formula 1's double points finale rule too artificial, says Ferrari
By Jonathan Noble Friday, December 20th 2013, 12:05 GMT


quote

---

Ferrari president Luca di Montezemolo has criticised plans to offer double points for Formula 1's season finale as 'too artificial'.

F1 teams, the FIA and Formula One Management voted in favour of the idea earlier this month, but their decision has been widely criticised by fans and the media.

AUTOSPORT has learned that teams were pressured into supporting the move because they were told by Bernie Ecclestone that television companies and race promoters had asked for a way to ensure the world title battle was kept alive for longer.

AUTOSPORT's verdict on double points move

Although di Montezemolo has suggested that there could be a rethink over the longer term, he does not think any change will come quickly.

"There has been this decision to give a lot of points at the last race, but I am not enthusiastic about it," di Montezemolo told media at Fiorano. "It looks too much artificial. We will see.

"I remember when they did three points [for winning] in soccer to avoid all the teams going for 0-0, 0-0 [draws]. But this was from the first to the last match."

Di Montezemolo wants to hold a summit meeting with teams at the start of next year to discuss a host of issues about F1's future - one of which is the introduction of rules like double points.

RETHINK UNLIKELY FOR 2014

But even though a unanimous vote from teams could result in the double points plan being ditched, di Montezemolo thinks a move to change it before the end of next season is unlikely.

"I am personally in some doubt," he said. "The best way to discuss and to find out may be to do a one year test and then see. Now is too early to say.

"I also don't want to give the feeling that they [the teams] said yes and now we say no. I personally have some doubts. I said this to [Jean] Todt and I said this to Bernie privately."

In theory, Ferrari could have exercised a rules veto it has to block the regulation change, but di Montezemolo said he was reluctant to do that for a matter like this.

"I think Ferrari's veto right has to be used if it is necessary on something that is more important and more deep for Formula 1," he said.

---


So now we know that the teams were "pressured" by bernie into making this decision. I wonder if there was some "financial" reward for going along with Bernie?



What's even worse is LdM admitting he knows it isn't correct for the sport, and he STILL did NOT exercise the Veto option that Ferrari holds.

#345
RE: Scuderia Ferrari
by
Jalumi
21.12.2013 17:47
Luv (
) post this in Twitter.

21.12.13.png - Bild entfernt (keine Rechte)