» Forum » Motorsport » F1 GP Spain 2017
Page 1 of 2
#1
F1 GP Spain 2017
by
Jalumi
12.05.2017 06:40
quote

---

Spanish Grand Prix - Ahead of Free Practice

11 May 2017

Seb: the winter feeling was good, but circumstances may vary. Kimi: the learning process is never-ending

Montmelò – The Spanish Grand Prix marks a turning point in the F1 season and so, traditionally, it has been associated with major changes being brought to all cars in the pit-lane. Furthermore, the Circuit de Catalunya has a variety of corners which require both downforce and stability and this has contributed to it being regarded as one of the iconic tracks of the current Formula One calendar. Some of these assumptions are true, while others could be challenged nowadays.
Seb Vettel has his own view: "Historically, a lot of updates have been brought here because in Europe it is much easier to do so. However, in the last eight or nine years it hasn't been like that, because updates have been brought everywhere else as much as here". But according to the Scuderia Ferrari driver, " if your car works here, it generally works everywhere. Here there are straights, low speed sections, high speed corners, all of which are challenging for the tires and the car. The feeling we had a couple of months ago here for testing was good. If we can keep that feeling I am sure we will be quick". Yet, Seb takes nothing for granted: "It depends on how the weekend goes, on the circumstances. We are working very hard to make Ferrari the best car".
And it's hard work also on Kimi Raikkonen's side, after finishing on the podium in Race 4 at Sotchi: "In the last race weekend I was much happier with the car set up; we have understood a lot since the first race, but obviously there are always thing you can improve and do better. Little by little, it is getting better and hopefully we can keep going that way and be in the front again. It's a never-ending process".
In this learning process, Kimi is keeping very focused on the job he has to do: "So far this weekend I haven't seen the other cars, and from tomorrow's free practice we won't get much information about them. We'll do our own stuff, follow our own schedule and try to improve. We have a good plan and we'll follow it. As for the rest, we cannot control what the others do; we just have to get the best out of the package and I'm sure we can take the fight to them. The season is still long, there's some work to be done, but that's what we are here for. As a team we are doing a good job, but we want to do better".


---

05f2d2c3b453d67da16f191e0765ec02.jpg - Bild entfernt (keine Rechte)
http://formula1.ferrari.com/en/spanish-g...-free-practice/
#2
RE: F1 GP Spain 2017
by
Jalumi
12.05.2017 06:49
Spain GP is Santander GP. So Seb, Kimi and Marc Gene had to do a lot of promotion yesterday. But it seems they had some fun. On facebook Santander uploaded some videos. Kimi was not very fair during the football match. He was pushing the others a lot
But he made 3 goals


18341810_1369983229758286_7653304736937589678_n.jpg - Bild entfernt (keine Rechte)

18402734_1272756139503667_7738821023931591442_n.jpg - Bild entfernt (keine Rechte)

f37t391p33154n3_KXHpxBZe.jpg - Bild entfernt (keine Rechte)

tumblr_opsu8mjltU1sl1o0fo3_540.jpg - Bild entfernt (keine Rechte)

tumblr_opsvxjqhbA1sl1o0fo3_540.jpg - Bild entfernt (keine Rechte)

The first win of the weekend was him. Lets hope it´s a good sign

tumblr_opsvxjqhbA1sl1o0fo4_540.jpg - Bild entfernt (keine Rechte)
#3
RE: F1 GP Spain 2017
by
Jalumi
12.05.2017 06:55
New regularies for the numbers on the car. A bit boring but at least you can recognize the driver better!

C_iBLcHW0AA0M30.jpg - Bild entfernt (keine Rechte)

18341931_1272756472836967_7678407296893913594_n.jpg - Bild entfernt (keine Rechte)

18010873_2372947296176909_6596480738630599652_n.jpg - Bild entfernt (keine Rechte)

18403055_809069732602192_9028445522426119420_n.jpg - Bild entfernt (keine Rechte)

18342257_1272756316170316_2226227613459086525_n.jpg - Bild entfernt (keine Rechte)
#4
RE: F1 GP Spain 2017
by
Jalumi
12.05.2017 08:17
quote

---

» F1 Spanish GP: Ferrari success the result of 2016 gains - Raikkonen

Kimi Raikkonen insists it was the gains made in 2016 that has ultimately led to Ferrari's strong start to the 2017 F1 season.

18341886_1272756046170343_4029300029485425153_n.jpg - Bild entfernt (keine Rechte)

Kimi Räikkönen says the development put into last year's Ferrari has ultimately laid the foundation for its race-winning SF70H effort despite the difference in performance.

Ferrari enjoyed a strong start to the 2016 season, regularly appearing on the podium and at times challenging for race wins but slid back in the development race as Red Bull came to the fore.

However, Raikkonen insists Ferrari never stopped learning with last year's and says the progress made up to the end 2016 has led to this year's success.

"I don't think an awful lot has changed since last year," says Raikkonen. "I was saying last year we were doing good things but people were purely looking at the end results on the Sundays. We are doing the same things and before, the guys have built a good car over the winter so when the results are better, people think you're doing completely different things to last year.

"Obviously, Mercedes were better than us and Red Bull in the second half. A lot hasn't changed since last year but there's a lot of things we should do better and find some stuff but a lot of things are the same way, there's just a much better car to produce much better results.

"It's a never-ending thing to work and work more closely, I felt last year people were pushing in the same direction which has been a big key to this year."

Given the increased performance this season and the ability to successfully challenge Mercedes for race wins, the next step for Räikkönen is to get a long-awaited win on the board and join teammate Sebastian Vettel and Lewis Hamilton in the championship hunt.

"The only thing we are missing is better results. The last race weekend I was very happy but there's always things to improve, always which could have gone better and to go faster. Even if you have happened to win races, there's always things which could have gone better or I have done better.

"There's always going to be things which aren't perfect, it's not often you can say that, you always change something. Things can always be better."

---
#5
RE: F1 GP Spain 2017
by
Jalumi
12.05.2017 16:34
FP1.jpg - Bild entfernt (keine Rechte)

FP2.jpg - Bild entfernt (keine Rechte)

C_ndBK8WAAAlvxZ.jpg - Bild entfernt (keine Rechte)

C_oVzHGW0AAdYKW.jpg - Bild entfernt (keine Rechte)
#6
RE: F1 GP Spain 2017
by
Olga
12.05.2017 17:23
#7
RE: F1 GP Spain 2017
by
Jalumi
13.05.2017 01:58
#KR: "It was pretty windy and slippery out there today. I think it was the same for everybody; the first day you find out how the track is and you go from there. The lap times from today's practice don't tell a lot, we were able to follow our programme and try different things. Compared to winter testing, it's pretty normal to find different conditions, because temperatures are higher and the track status changes. As on any other Friday, there is some work to be done, so we'll see what we come up with for tomorrow".

#SV: "Today the conditions seemed to be quite challenging, but we can improve, I wasn't totally happy as I think a lot was left in the track and I didn't find it at the end. At the same time I feel the car is quick so I just need to get it right. Overall, the atmosphere is good, but obviously now I'm more focused on what happened today. I think everybody struggled today. I don't know who brought more updates but I think what really matters is who brings the best ones".
#8
RE: F1 GP Spain 2017
by
Jalumi
13.05.2017 12:31
Let us dream Kimi


FP3.jpg - Bild entfernt (keine Rechte)
#9
RE: F1 GP Spain 2017
by
jpp47
13.05.2017 17:08
SPANISH GP GRID

POS DRIVER CAR TIME GAP
1 Lewis Hamilton Mercedes 1m19.149s -
2 Sebastian Vettel Ferrari 1m19.200s 0.051s
3 Valtteri Bottas Mercedes 1m19.373s 0.224s
4 Kimi Raikkonen Ferrari 1m19.439s 0.290s
5 Max Verstappen Red Bull/Renault 1m19.706s 0.557s
6 Daniel Ricciardo Red Bull/Renault 1m20.175s 1.026s
7 Fernando Alonso McLaren/Honda 1m21.048s 1.899s
8 Sergio Perez Force India/Mercedes 1m21.070s 1.921s
9 Felipe Massa Williams/Mercedes 1m21.232s 2.083s
10 Esteban Ocon Force India/Mercedes 1m21.272s 2.123s
11 Kevin Magnussen Haas/Ferrari 1m21.329s 2.180s
12 Carlos Sainz Toro Rosso/Renault 1m21.371s 2.222s
13 Nico Hulkenberg Renault 1m21.397s 2.248s
14 Romain Grosjean Haas/Ferrari 1m21.517s 2.368s
15 Pascal Wehrlein Sauber/Ferrari 1m21.803s 2.654s
16 Marcus Ericsson Sauber/Ferrari 1m22.332s 3.183s
17 Jolyon Palmer Renault 1m22.401s 3.252s
18 Lance Stroll Williams/Mercedes 1m22.411s 3.262s
19 Stoffel Vandoorne McLaren/Honda 1m22.532s 3.383s
20 Daniil Kvyat Toro Rosso/Renault 1m22.746s 3.597s
#10
RE: F1 GP Spain 2017
by
jpp47
13.05.2017 17:11
Lewis Hamilton beat Formula 1 title rival Sebastian Vettel to pole position for the Spanish Grand Prix by less than one tenth of a second after a thrilling qualifying battle.

Ferrari had set the pace in final practice at Barcelona's Catalunya circuit, but Hamilton's Mercedes held the advantage in qualifying after the first runs in Q3, setting a 1m19.149s time that would eventually stand for pole when Hamilton failed to improve on his second run.

Vettel suffered from a de-rating of his Ferrari's energy recovery system during his first Q3 run, and was a distant fourth quickest as a result, but he was lapping comfortably faster than Hamilton's pole time on his final run before locking up at the final chicane.

Vettel eventually cut the timing beam in 1m19.200s, half a tenth down on Hamilton, apologising to his team for the mistake.

Hamilton's Mercedes team-mate Valtteri Bottas was third fastest, recovering from a wild slide exiting the chicane on his first Q3 run to ultimately lap 0.173s slower than Vettel with a small improvement on his second run.

Bottas described his performance as "not good enough", but it was enough to confine the second Ferrari of Kimi Raikkonen to fourth.

Raikkonen suffered an oversteer moment at Turn 12 on his first Q3 run and lost time in sector two on his final effort.

Max Verstappen was well clear of Daniel Ricciardo in the private battle between Red Bulls to be fifth, while Fernando Alonso produced a superb performance to haul McLaren-Honda into Q3 for the first time this season and qualify seventh fastest.

Force India got both its cars into the top 10 again, sandwiching Felipe Massa's ninth placed Williams.

Sergio Perez was eighth and Esteban Ocon 10th, Ocon feeling his lost two tenths after failing to engage DRS at a crucial moment.

Kevin Magnussen missed out on making the top 10 by less than a tenth, while Haas team-mate Romain Grosjean wound up down in 14th after losing the rear end of his car and going off at Turn 13 and the chicane on his final Q2 lap.

Carlos Sainz Jr looked in excellent shape through Q1 and the initial runs in Q2, where he was always inside the top 10, but he only found 0.015s on his final Q2 run so ended up 12th.

The Spaniard felt he extracted the maximum from the heavily updated Toro Rosso, finishing just ahead of Nico Hulkenberg's Renault, which failed to make Q3 for the first time since the season-opening Australian Grand Prix, provoking an angry response from Hulkenberg on team radio.

Pascal Wehrlein's Sauber was 15th fastest, having done very well to win a tight scrap to escape Q1.

Less than a second covered 14 cars in that fight, with Perez's Force India the only car outside the top six not required to make a second run.

Wehrlein edged out Sauber team-mate Marcus Ericsson by just 0.005s to make the cut, while Jolyon Palmer's Renault, Lance Stroll's Williams, Stoffel Vandoorne's McLaren and Daniil Kvyat's Toro Rosso all missed out.

Hulkenberg and Massa also scraped through in this segment, but Kvyat and Vandoorne qualified well adrift of their team-mates, with Sainz's Toro Rosso ninth fastest in Q1 and Alonso's McLaren 12th.
#11
RE: F1 GP Spain 2017
by
jpp47
13.05.2017 17:14
Sebastian Vettel has been forced to take his third internal combustion engine of the Formula 1 season following the discovery of a water leak in a new unit fitted on Saturday morning.

Vettel headed in to final practice at the Circuit de Catalunya having taken a new internal combustion engine - the second of the four he is allowed to use this year.

But shortly before the end of the session, he stopped in the pitlane amid concerns about a potential problem with it. Once the car was back in the garage, Ferrari discovered a minor water leak.

With time running short before qualifying, a decision was taken to not risk trying to repair it and instead fit a new power unit as a precautionary measure.

Ferrari is hoping that the work will be finished in time for the start of qualifying.

The second power unit run on Saturday morning should still be available to come back into use later in the year without a penalty.

However, it will limit scope for upgraded engines to be used without incurring a penalty, with Vettel now only having one totally fresh engine to play with from his original allocation.
#12
RE: F1 GP Spain 2017
by
Jalumi
13.05.2017 20:37
I hoped for better than P4.
Had a good feeling yesterday and today morning. What is it with Kimi and his qualis?


C_st6xWWsAAVpiJ.jpg - Bild entfernt (keine Rechte)

C_st9PNWsAAeA_W.jpg - Bild entfernt (keine Rechte)

tumblr_opwdypzXFp1ru7k30o1_540.jpg - Bild entfernt (keine Rechte)
#13
RE: F1 GP Spain 2017
by
Jalumi
14.05.2017 14:56




Thats all for now
#14
RE: F1 GP Spain 2017
by
Olga
14.05.2017 15:01
that!!!!!!!!!!!!!!!!!!!!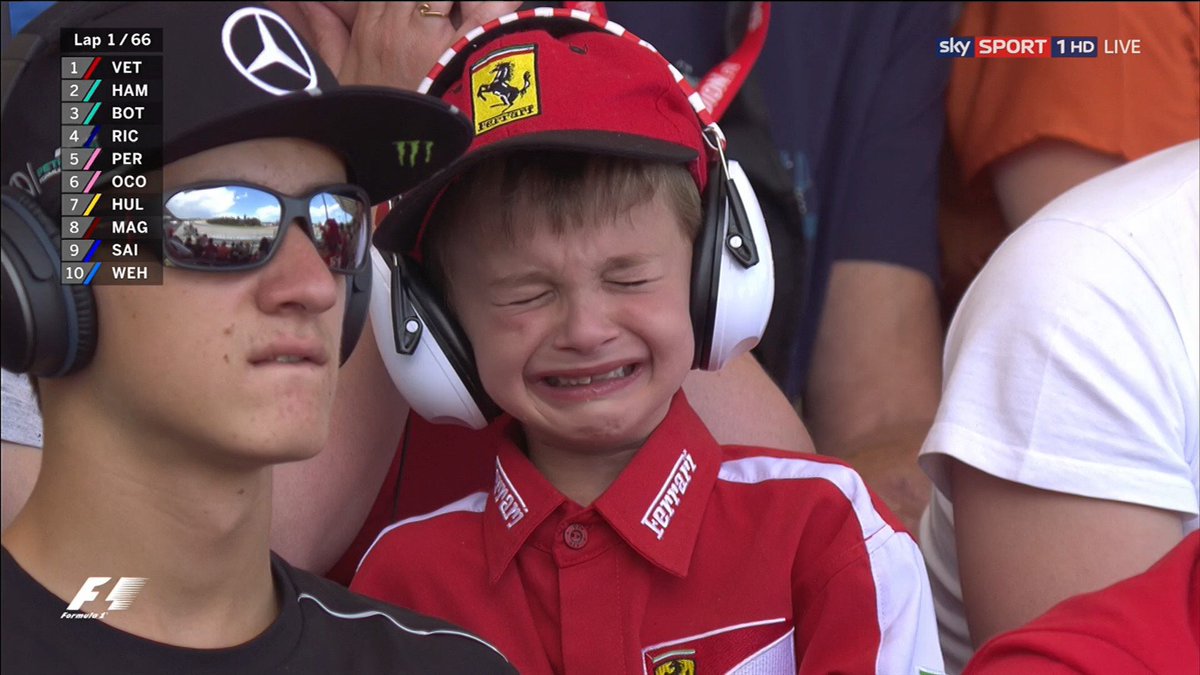 #15
RE: F1 GP Spain 2017
by
Jalumi
14.05.2017 20:00
Kimis words
C_zYk74XkAEiEV6.jpg - Bild entfernt (keine Rechte)