» Forum » Motorsport » Lotus F1 Team 2013
Page 44 of 44
#646
RE: Lotus F1 Team 2013
by
Jalumi
27.01.2014 17:51
Sorry, I dont read it full because I was in a hurry this morning

Maybe it´s a joke.....
#647
RE: Lotus F1 Team 2013
by
Olga
09.02.2014 21:05
from twitter, on Lotus's testing during filming...


quote

---

James Allen saying on his website that Lotus only managed 1 lap on their 'filming day' in Jerez on Friday

---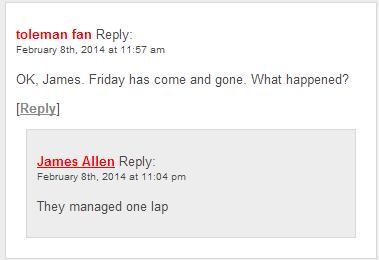 #648
RE: Lotus F1 Team 2013
by
Denorth
28.02.2014 10:57
#649
RE: Lotus F1 Team 2013
by
Sonny
01.03.2014 18:10
I can't tell if it's being sarcastic or realistic.. I get the feeling that it's being sarcastic. I mean.. Is this a website that puts out credible stories?! Or do they usually make jokes of stories?

To the non-native English speakers.. The article is saying Gerard Lopez had a plan to take the team back to its "original self." Which is a team full of debt and cars that break down frequently. It says he had this plan from the time he bought the team.

It's really not worth saying much more. I think it's written as "tongue in cheek." That's what we would say here in America. It's written with language that tells you the writer is being sarcastic (not serious) and poking fun at their massive debts and poor future outlook.
#650
RE: Lotus F1 Team 2013
by
WHATEVER
09.10.2014 18:55
Lotus switching to Mercedes engine for 2015.