Ľ Forum Ľ Motorsport Ľ F1 BRITISH GRAND PRIX - 2013
Page 3 of 8
#31
RE: F1 BRITISH GRAND PRIX - 2013
by
Kriss
27.06.2013 17:31
#32
RE: F1 BRITISH GRAND PRIX - 2013
by
YiNing
27.06.2013 17:55
Zitat

---

Loviisa.H 'ÄŹ@Loviisa_F1 50m
HahaXD Oskari saari asked kimi "did mika salo to cut your hair?" kimi laughed and said "no"!

---
#33
RE: F1 BRITISH GRAND PRIX - 2013
by
YiNing
27.06.2013 17:57
Zitat

---

ESPN F1 'ÄŹ@ESPNF1 53m
Kimi was rather popular with the media earlier today. No prizes for guessing why. pic.twitter.com/KF7tBo7jXN

---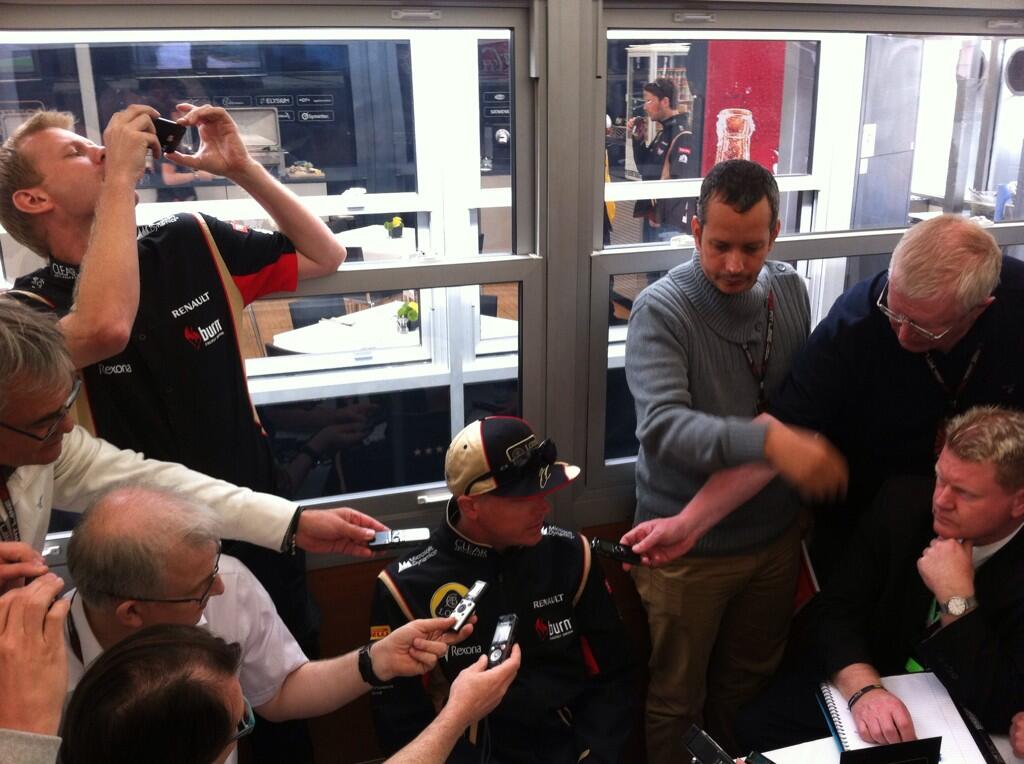 #34
RE: F1 BRITISH GRAND PRIX - 2013
by
Jalumi
27.06.2013 18:18
#35
RE: F1 BRITISH GRAND PRIX - 2013
by
YiNing
27.06.2013 19:06
#37
RE: F1 BRITISH GRAND PRIX - 2013
by
WHATEVER
27.06.2013 19:53
Zitat von YiNing

---

Zitat

---

Pablo Elizalde 'ÄŹ@EliGP 1m
In today's hair-related news, Raikkonen got a haircut and Alonso is trying to grow a moustache

---

---


OMG
" title="blink" /> what did that boy do
" title="oh" />

" title="shake" />

That dude is crazier than I thought
" title="crazy" />

I bet he lost a bet while having a tan and a beer with his buddies back in Finland
" title="she" />
" title="snap" />
#38
RE: F1 BRITISH GRAND PRIX - 2013
by
WHATEVER
27.06.2013 19:55
Have some interesting translations from Nicole:

Zitat

---

Räikkönen reveals: Options are Red Bull and Lotus

Julkaistu 27.06.2013 17:28
Jani Merimaa ja Oskari Saari

Kimi Räikkönen revealed to MTV3 on Thursday that his options for next season are either Lotus or Red Bull.

Räikkönen admits openly that he is interested in Red Bull.

- It would be pretty difficult not to be interested in a team who has won both championships for many years in a row. There would be something wrong with you if you wouldn't be interested, but it doesn't mean that I wouldn't be interested in continuing with Lotus. One always tries to get the best possible car. It's the only way to do well here, Räikkönen told MTV3.

Räikkönen's contract negotiations for next season are ongoing at the moment.

- We have negotiated with some people. At some point we have to start making decisions, but we will tell only after they are made. It's easier for me too when everybody stops asking questions. For as long as there is no contract it's difficult to say anything about those things, Räikkönen said.

The team decision might come soon.

- There is no schedule. I'd rather do it sooner than later.

Räikkönen wants every small detail in order before signing the contract.

- There are many small things that have to be just like I want. They decide more than any other matters. I have been for so long in these circles that I know what I want and what I am satisfied with. A lot of small things that might sound stupid to some, but they can decide the whole matter.

http://www.mtv3.fi/urheilu/f1/uutiset.s ... l-ja-lotus


---
#39
RE: F1 BRITISH GRAND PRIX - 2013
by
WHATEVER
27.06.2013 19:56
So who is on team mohawk
" title="lol" />
#40
RE: F1 BRITISH GRAND PRIX - 2013
by
WHATEVER
27.06.2013 19:57
Here's another from Nicole

Zitat

---

Webber's announcement of retiring doesn't speed up Räikkönen's decisions

F1 | Turun Sanomat 17:33

Kimi Räikkönen attracted curious F1-media more than ever in Silverstone on Thursday after Mark Webber made it clear that Red Bull has a top seat available next season.

When that seat became available, did anything change for Räikkönen?

'Äď Nope, because I still haven't got an answer to what I will do next season. Of course people are talking about different options, but it doesn't really change anything about what I will do next year, even if there would be an available seat, R√§ikk√∂nen snapped.

Then how would it feel to drive as Sebastian Vettel's teammate?

'Äď I don't have difficulties to drive with anyone and I have never been in a position where I could decide who my teammate would be. But if it becomes true that me and Sebastian race together, then it's probably easier than it would be with someone else, R√§ikk√∂nen ponders.

Then what about the ongoing negotiations?

'Äď Of course we need to discuss with certain people. But it doesn't mean any secrets. I don't have a contract. That's normal in F1. I have nothing to tell. When I have, then I will tell immediately. It's much easier that way when questions like these stop right away, R√§ikk√∂nen said.

Turun Sanomat, Silverstone

HEIKKI KULTA

http://www.ts.fi/moottoriurheilu/f1/503 ... ratkaisuja


---
#41
RE: F1 BRITISH GRAND PRIX - 2013
by
WHATEVER
27.06.2013 19:58
And another...

Zitat

---

Räikkönen has takers in Silverstone

27.6.2013

It was not unclear who was the most interested driver by far on Silverstone paddock.

As soon as Kimi Räikkönen arrived to the paddock he was surrounded by TV-cameras and journalists. The news about Mark Webber's retirement clearly put an extra spin on the Räikkönen to Red Bull -speculations.

During an exceptionally long interview Kimi replied patiently over and over again to all inquiries from different angles about his future plans.

One time Räikkönen's face got a strong smirk when a British reporter stated that next year Kimi will be the oldest F1-driver.

- I really don't recognize myself in that person, Räikkönen laughed.

Kimi, did you know to expect this kind of hulabaloo when arriving to the paddock just a minute ago?

- I heard about Webber's decision only a few hours ago. There is now more media but there's nothing special with that. It's normal every now and then.

- Webber's decision didn't change my plans for next season in one way or another.

- I don't have a contract for next season. I want that things are carefully considered and announced only after the names are in the contract papers for real. After that I will inform you immediately. It's much more easier for me than being asked the same question over and over again.

- It's clear that it's not easy to make a contract because there a so many things to be considered and everything has to fall in place. I have earlier also been in a situation where there have been several worthy options.

http://yle.fi/urheilu/raikkosella_vient ... sa/6708766


---
#42
RE: F1 BRITISH GRAND PRIX - 2013
by
WHATEVER
27.06.2013 19:58
And today's last one (I think

" title="hmm" />)

Please read this article, is Kimi implying that he wants to go to Mercedes?


Zitat

---

Räikkönen is facing a ten times more difficult decision

27.06.2013 18:45
Erkki Mustakari
erkki.mustakari(at)mtv3.fi

Kimi Räikkönen admits that the choice between Lotus and Red Bull is difficult.

- Whatever I decide it's not ging to be an easy decision. It's never easy. This isn't the first time I have several possibilities to continue in F1. When the time for making the decision comes, one naturally hopes that it's the right and best one. It's difficult to say if it will be right or wrong. You can only make a decision and hope it's the right one.

- Coming to this team was a perfect thing. Without Lotus I wouldn't had come back to F1. Naturally Lotus has also benefitted somewhat positively from their decision. I know that there are still things in which we have to improve our performance ability. I have enjoyed being in this team very much. That is why no matter what decision I make, it is going to be difficult. We know, both the team and I, what we should do in order to improve our car's performance ability, Kimi said.

It looks as if you in this team had freedom to do the things you want to do. How important is that detail when you make a decision about your future?

- It's one of the key factors when I make the decision. Firstly and mostly I want the car to be good along with a few other matters including this job. Matters not related to F1 aren't that important, but I have been in this job for so long that I know exactly what I want. And if some things aren't the way they should be, then it's more difficult to make the decision.

Are you in F1 next season for sure?

- I said that I have a few other options to continue my career in this sport. It's still a long time before next season and many things in my own life might affect my decision. Who knows what happens? However the possibility of me continuing next season is big.

Was your attitude the same when you came back a year and a half ago?

- I have never lost my interest to compete. F1 had changed only a little during the 2-year break. Nowadays there are perhaps more press-jobs and other obligations, but they all belong to this entity.

When taking into consideration all the changes that come next season, how difficult is it to make the right decision?

- It's ten times more difficult now than it was earlier. If everything would continue like before, then the decision would be easier to make. They are already now talking that a certain engine (Mercedes Benz) would be more efficient than the other engines. If I would know what happens in the future then the decision would be easier to make, but I don't know. Whatever my decision is I have to live with it.

So in other words what makes your decision more difficult, is that nobody can say for certain which team succeeds best with the whole package?

- That is true, but Lotus and Red Bull use same engines and it makes it easier to decide between these two teams. You can't fail badly with Red Bull when seeing what kind of a car their drivers have had the last years. At least I can't go badly wrong when thinking of failure.

What do you expect from this weekend?

- What happened in the last two races didn't tell the truth about our performance ability. Monaco was screwed because of the crash (Sergio Perez) and we had problems with the brakes in Montreal. Without those we would had scored a lot more points. If we get everything to work normally then we will be much stronger here. Hopefully also the changes made to the car help us get better results.

- Others can also run into different problems and then the situation can improve quickly. Fortunately there are still races left, but the fact is that we can't afford to lose a lot of points to Vettel and Alonso, Kimi pondered.

http://www.mtv3.fi/urheilu/f1/uutiset.s ... mpi-paatos


---
#43
RE: F1 BRITISH GRAND PRIX - 2013
by
Olga
27.06.2013 20:04
thanks to Nicole and you W!
" title="ty" />
" title="hug" />

no, i dont think Kimi wants to go to merc...the renault engine is at least a constant in the variables Kimi has to think about in order to decide...
#44
RE: F1 BRITISH GRAND PRIX - 2013
by
miezicat
27.06.2013 20:56
" title="ty" />

wtf? what is this?
" title="blink" /> can't someone take that hat off?
h" title="hih" /> I wanna see the whole thing
" title="lol" />
Kimi you shouldn't bet, you seem to lose most times
" title="ha" />
#45
RE: F1 BRITISH GRAND PRIX - 2013
by
Boudica
27.06.2013 21:53
Zitat von miezicat

---

wtf? what is this? can't someone take that hat off? I wanna see the whole thing
Kimi you shouldn't bet, you seem to lose most times

---


I would love to see how it looks. It might be mohawk at the back, with more hair on top, or wider at the top. Many guys are wearing these types of styles, although it is usually younger guys. I just never thought Kimi would try something like this. Perhaps he just lost a bet.

Now Kimi has to make the podium so that we could see this hair cut properly.