» Forum » Motorsport » F1 Hungarian Grand Prix 2013
Page 5 of 6
#61
RE: F1 Hungarian Grand Prix 2013
by
YiNing
28.07.2013 17:52
Zitat von miezicat

---

27th finish in a row



---
" title="ha" />
" title="ha" /> Hurry up you old .... I want to go home
h" title="hih" />
#62
RE: F1 Hungarian Grand Prix 2013
by
Jalumi
28.07.2013 18:17
ha" title="haha" />
#63
RE: F1 Hungarian Grand Prix 2013
by
miezicat
28.07.2013 18:22
http://whatliesbeyondice.tumblr.com/pos ... old-on-sky

Zitat

---

And that's what Jaques Villeneuve just told on Sky Italia:
"Kimi did not leave enough room for Vettel, he always behaves like this, he doesn't drive fairly, he always pulls other drivers off track, but FIA never does anything about it because he's a favoured guy".

Ok, updates: it just happened JV added (with scorn) that Kimi drives poorly and he's satisfied with taking home some points, the other reporters were clearly embarassed with such statements and when Carlo Vanzini asked why he's this angry with Kimi he replied changing subject telling Kimi needs a teammate who works with the team on car development because he's not able to do that.

---

" title="facepalm" />
#64
RE: F1 Hungarian Grand Prix 2013
by
Jalumi
28.07.2013 18:24
#65
RE: F1 Hungarian Grand Prix 2013
by
YiNing
28.07.2013 18:26
http://www.f1times.co.uk/news/display/07886


Zitat

---

Grosjean handed 20-second penalty for contact
Sunday 28th July 2013, 17:23

Romain Grosjean has been handed a 20-second penalty for his collision with Jenson Button during the Hungarian Grand Prix.

The Lotus driver was chasing the McLaren driver down, but as he passed heading into the chicane, he cut across and his left-rear wheel hit Button's front-wing, causing damage.

The penalty doesn't have a bearing on the final outcome however, as Grosjean finished sixth, more than 20-seconds ahead of Button in seventh.

It's Grosjean's second penalty after he was given a drive-through for leaving the track limits when overtaking Felipe Massa, which team principal Eric Boullier described as "harsh".
- See more at: http://www.f1times.co.uk/news/display/0 ... 7fVbF.dpuf

---
#66
RE: F1 Hungarian Grand Prix 2013
by
YiNing
28.07.2013 18:28
Zitat

---

Sky Sports F1 ‏@SkySportsF1 1m
Hungarian GP stewards looking into Fernando Alonso activating DRS three times when not within permitted one second of a car ahead #skyf1

---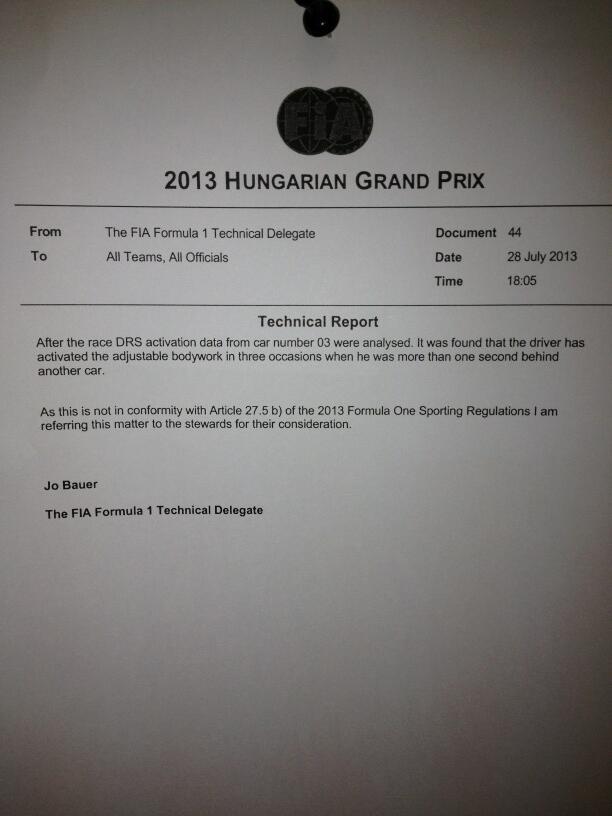 #67
RE: F1 Hungarian Grand Prix 2013
by
Sonny
28.07.2013 18:45
Zitat von miezicat

---

http://whatliesbeyondice.tumblr.com/post/56691932695/and-thats-what-jaques-villeneuve-just-told-on-sky


Zitat

---

And that's what Jaques Villeneuve just told on Sky Italia:
"Kimi did not leave enough room for Vettel, he always behaves like this, he doesn't drive fairly, he always pulls other drivers off track, but FIA never does anything about it because he's a favoured guy".

Ok, updates: it just happened JV added (with scorn) that Kimi drives poorly and he's satisfied with taking home some points, the other reporters were clearly embarassed with such statements and when Carlo Vanzini asked why he's this angry with Kimi he replied changing subject telling Kimi needs a teammate who works with the team on car development because he's not able to do that.

---

---


This is exactly why JV Should never be a race steward.

He is so biased its beyond belief. Seb desperatly tried to pass and Kimi used te track advatage because he was ahead. It's not hard to see
#68
RE: F1 Hungarian Grand Prix 2013
by
miezicat
28.07.2013 18:49
Zitat

---

2013 Hungarian Grand Prix, Sunday 28 July

Kimi RĂ€ikkönen took second place at the Hungaroring to jump back into second in the Drivers' Championship after a hot and hard-fought Hungarian Grand Prix. Kimi used a two-stop strategy for his sixth podium of the season, spurring the advances of Sebastian Vettel in the final laps. Romain Grosjean drove a storming race, withstanding a drive-through penalty and a twenty second addition to his race time to finish in sixth position. Kimi is now second in the Drivers' Championship with 134 points to Sebastian's 172. The team was the second highest scoring in the Constructors' Championship today, remaining in fourth place on 183 points, but closing the gap to Ferrari on 194.

[list] [*]Kimi started from P6 with a scrubbed set of soft tyres, changing to new medium compound tyres on laps 13 and 42.
[/*:m][*]Romain started from P3 on a scrubbed set of soft tyres, changing to new sets of medium compound tyres on laps 13, 25 and 47. He made a pit lane drive-through on lap 37.[/*:m][/list:u]

Kimi RÀikkönen, P2, E21-03
"It was a good race and a good result for the team. The strategy worked well. We did two long stints on the tyres but they weren't too bad and the car felt strong so it allowed us to make one less stop. In the last few laps the rears were a bit on edge, but apart from that it was ok. Sebastian [Vettel] got the run on me a couple of times but luckily it was in places that you can't really overtake. The main positive is that we gained a few points to Seb in the Championship. For sure we could have maybe closed the gap a little more with a win, but anything we can get back will help. We're only halfway through the season and it will be hard to catch up, but anything can still happen so we'll keep fighting until the end."

Romain Grosjean, P6, E21-02
"For sure this is one that got away, but I'm very happy with my race and I honestly don't think I could have done much more. Maybe the strategy didn't quite work how we wanted, but the car felt really good and it was the traffic that cost us. Without this maybe there would never have been a drive-through penalty which for sure didn't help. I haven't seen the footage yet and I thought it was a good move, but unfortunately the stewards took a different view. I've no problem with the time-added for the incident with Jenson and I apologised to him afterwards. This could have been the one for me, but we will just have to wait a little bit longer and keep improving like we have been recently to make it happen."

Eric Boullier, Team Principal
"Another good result for Kimi today. He drove very well and was backed up by a strong strategy to help him make the podium. Romain was very unfortunate in that we couldn't quite jump Fernando [Alonso] in the pits which cost him a lot of time, plus the drive-through penalty cost him a far better result. He made a great move at a circuit where overtaking is difficult and he had no room to do anything else. For us the Stewards' decision was harsh. The most important thing to take from the weekend has been the pace of the car; this circuit is a bit special, and I think there will be some circuits where we have to work a bit harder, but I'm confident we'll be consistently fighting for podiums at every race weekend in the second half of the season. Red Bull are a long way ahead, but we've shown today that they can be beaten so we want to keep pushing them all the way."

Alan Permane, Trackside Operations Director
"It was a great race today from Kimi – as always. We started the race intending a three-stop strategy, but as the race played out it became clear that a two-stop would give us better possibilities so we switched over to that strategy. Kimi drove superbly to look after his tyres but deliver exactly the pace we needed at the appropriate time. He was rewarded by returning to second in the Drivers' Championship. I feel really sorry for Romain for what appears to be a very harsh penalty for a fantastic overtaking move on Felipe Massa. Yes, he ran off the track, but he had nowhere else to go. It certainly seemed like good racing to me; were it not for the drive-through penalty, we would have had two cars on the podium again."

Ricardo Penteado, Renault Sport F1 Team Support Leader
"We had high expectations after our strong qualifying positions. Kimi drove a fantastic race with an aggressive strategy of two pit stops which was successful with a podium second place. Romain was very fast all the weekend but with his penalty he lost any chance to get to the podium. We controlled the engine temperatures during all the race and we demonstrated one more time that the Lotus-Renault package is really very fast. The summer break will be very good and we are looking forward to come back on track at Spa."

---
#69
RE: F1 Hungarian Grand Prix 2013
by
vida
28.07.2013 18:50
Zitat von miezicat

---

http://whatliesbeyondice.tumblr.com/post/56691932695/and-thats-what-jaques-villeneuve-just-told-on-sky


Zitat

---

And that's what Jaques Villeneuve just told on Sky Italia:
"Kimi did not leave enough room for Vettel, he always behaves like this, he doesn't drive fairly, he always pulls other drivers off track, but FIA never does anything about it because he's a favoured guy".

Ok, updates: it just happened JV added (with scorn) that Kimi drives poorly and he's satisfied with taking home some points, the other reporters were clearly embarassed with such statements and when Carlo Vanzini asked why he's this angry with Kimi he replied changing subject telling Kimi needs a teammate who works with the team on car development because he's not able to do that.

---

---


Wow this guy must be so much in love with Kimi....but kimi broke his heart
#70
RE: F1 Hungarian Grand Prix 2013
by
YiNing
28.07.2013 19:12
Zitat

---

Connor ‏@cmckinleyF1 1m

The FIA have confirmed that they were able to extract a one litre sample of fuel from Kimi Raikkonen's car after the race #F1

---
#71
RE: F1 Hungarian Grand Prix 2013
by
YiNing
28.07.2013 19:28
Zitat

---

ESPN F1 ‏@ESPNF1 5m
No penalty for Fernando Alonso, Ferrari fined €15,000 #F1

---


I don't understand, why the team was fined for Alonso's illegal use of DRS? It's not like the team made him push the button was it?

OK, the update...


Zitat

---

No penalty for Alonso for DRS misuse
2013 Hungarian Grand Prix

Fernando Alonso, Ferrari, Hungaroring, 2013Fernando Alonso has escaped punishment for using DRS when he wasn't supposed to during the Hungarian Grand Prix.

The stewards found the Ferrari driver activated DRS on three occasions when he was not within a second of another car.

Ferrari were fined €15,000 (£12,945) for the infringement.

The stewards ruled: "The DRS enabling system was not changed by the team from the pre-race to the race setting. The driver therefore incorrectly received 'DRS enabled' messages and reacted to them (when not entitled to) on three occasions.

"As soon as the team became aware of the problem they informed the driver to only use DRS when told to do so by the team.

"Whilst a small sporting advantage (less than one second over the entire race) was gained, the team argued car three [Alonso] also suffered a disadvantage by being unable to use DRS on every legitimate occasion.

"However, the team is ultimately responsible for ensuring the system conforms to the regulations."

---
#72
RE: F1 Hungarian Grand Prix 2013
by
Sonny
28.07.2013 19:35
The flap shouldn't be allowed to open if FIA timing and scoring verifies he is trailing the car in front by more than 1sec.

I think the FIA are trying to penalize the Ferrari team for this. But I agree with you that some fault lies with Fernando. The engineers should have clearly seen he was activating DRS improperly and thus told him about the issue. I think he's lucky to come away with only a fine to his (Alonso's) team. One time I could understand.. 3 is hard to explain!
#74
RE: F1 Hungarian Grand Prix 2013
by
WHATEVER
29.07.2013 01:03
Zitat von vida

---

Zitat von miezicat

---

http://whatliesbeyondice.tumblr.com/post/56691932695/and-thats-what-jaques-villeneuve-just-told-on-sky


Zitat

---

And that's what Jaques Villeneuve just told on Sky Italia:
"Kimi did not leave enough room for Vettel, he always behaves like this, he doesn't drive fairly, he always pulls other drivers off track, but FIA never does anything about it because he's a favoured guy".

Ok, updates: it just happened JV added (with scorn) that Kimi drives poorly and he's satisfied with taking home some points, the other reporters were clearly embarassed with such statements and when Carlo Vanzini asked why he's this angry with Kimi he replied changing subject telling Kimi needs a teammate who works with the team on car development because he's not able to do that.

---

---



Wow this guy must be so much in love with Kimi....but kimi broke his heart

---

Oh boy, you couldn't have said it better
" title="lol" />

But seriously, how can this guy be an F1 SKY commentator, they are supposed to be capable and fair

" title="facepalm" />

" title="doh" />

At the Italian forum they are suggesting we should write to SKY Italy to express our dislike for this guy's coments, I think we really should..
#75
RE: F1 Hungarian Grand Prix 2013
by
Olga
29.07.2013 07:34
thanks to Nicole


Zitat

---

RÀikkönen to well earned vacation as 2nd in the WDC-standings

F1 | Turun Sanomat 01:03

3 weeks ago Kimi RÀikkönen battled fiercly with Sebastian Vettel for the victory in Germany GP. Now the same buddies hit together when fighting for the 2nd position in Hungary GP.

Vettel won in Germany, RÀikkönen in Hungary, so in a way both were more stronger on their home field.

RÀikkönen took the 2nd position by managing to do one less stop with the new tires.

– When Friday and Saturday went so badly, I had to try something different so I could overtake the others. I have picked up a bad habit of putting myself in a bad position in quali.

– We planned a 3-stop strategy beforehand, but when the front tires started to work and the car felt good right from the beginning and when we got even the soft tires to last a few laps longer, we changed strategy.

– I drove about 20 laps with the first set and then I got the second set to last 30 laps, which was the intention. The last two laps the tires were quite worn out, but there was nothing to worry about. It was only in the 2nd corner where I had to be on my guard with Sebastian, because he got so close there.

– But there was nothing to worry about. I was on the driving line and even though Sebastian got a good speed he couldn't overtake in that exact spot, RĂ€ikkönen said.

Fiercly and fairly

Vettel said in the radio that Kimi left too little space. It didn't however create any bigger litigation between the two buddies. Vettel said that his complaint was due to the heat of the moment.

– Kimi isn't any idiot, Vettel reminded.

In the press conference they asked RÀikkönen if defending his position this fiercly would be bad for the rumoured switch to Red Bull for next season.

– I don't even have any contracts for next season, so it doesn't matter what happens on the track. In that situation I knew that my tires were okay and once I got through the last sector well, I felt that nobody could overtake me in the first corner. The other corner again was trickier during the whole race. Sebastian came in once before, so on his second attempt I defended my position.

– Perhaps I went a bit overboard, it was tough, but I kept him behind me. That was the only good time. It's difficult to overtake in that spot when the track is so narrow over the hill. For me it was the only spot where I had some problems with the tires, RĂ€ikkönen said.

Paying old debts

Vettel said in his winning-interview in NĂŒrburgring, that after beating RĂ€ikkönen maybe he would himself be just as angry as the Finn was at that exact moment.

Are you just as angry as Kimi was after the last race?

– We don't exactly feel hatred in those situations. We raced for the victory so I was happy when winning. Now we raced for the 2nd position and although 2nd is better than 3rd I'm still not completely satisfied with my race, but in the end my position wasn't a catastrophy. I was after all on the podium and have said all the time that some day the others will be ahead of us, Vettel said.

RÀikkönen went past Fernando Alonso and caught up Vettel with 3 points in the standings.

– This is a positive result. The season is only halfway and each time that we catch Vettel the situation gets better for us. We need more speed of course and we have to understand the new tires better. Nothing is lost at this point, RĂ€ikkönen calculated.

Turun Sanomat, Budapest

HEIKKI KULTA

---


and Vettel:

https://www.youtube.com/watch?v=dImLwH1Pg0w