» Forum » Motorsport » F1 News and Translations - 2014
Page 6 of 12
#76
RE: F1 News and Translations - 2014
by
Denorth
28.01.2014 18:02
Taki san is a very funny man


https://twitter.com/takiinoue/status/428...6271232/photo/1
#77
RE: F1 News and Translations - 2014
by
Olga
28.01.2014 20:12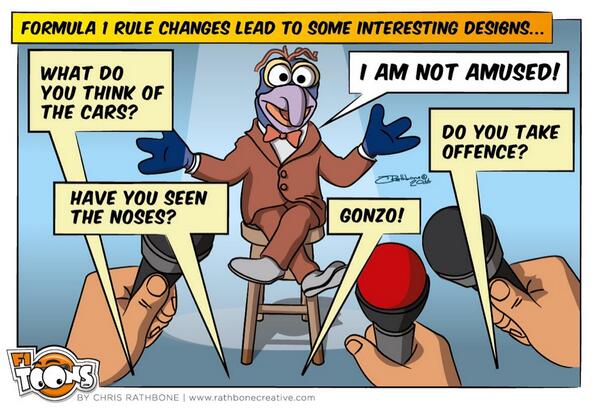 #78
RE: F1 News and Translations - 2014
by
WHATEVER
29.01.2014 13:11
#79
RE: F1 News and Translations - 2014
by
Jalumi
01.02.2014 18:32
quote

---

Ross Brawn announces retirement from Formula One

Ross Brawn has announced today that he will be retiring from Formula One, ending heavy speculation regarding his future in the sport.
.........

---


More here: http://richlandf1.com/?p=18899
#80
RE: F1 News and Translations - 2014
by
Boudica
03.02.2014 07:36
Upbeat Massa tips "brainy" Alonso to beat Raikkonen at Ferrari


Felipe Massa ended the Jerez test, his first for Williams, in an upbeat mood describing the situation at Williams as "better than expected" and tipping his former team mate Fernando Alonso to have the upper hand at Ferrari over his replacement Kimi Raikkonen.

Asked by Italian media why he he had said Alonso would come out on top Massa said,

"Because he is very intelligent, he's already worked out the new regulations and he knows what he needs to do to be quick straight away. He combines talent with savvy. He has a lively intelligence
and that is what is needed with this change of regulations.

"Then again the cars are very different and you never know, they may suit Kimi's style better than Fernando's, we will see."

http://www.jamesallenonf1.com/2014/02/up...nen-at-ferrari/
#81
RE: F1 News and Translations - 2014
by
Olga
03.02.2014 07:53
oh massa, you could stop the licking now! havent yet digested you are not in ferrari anymore?
#82
RE: F1 News and Translations - 2014
by
Olga
03.02.2014 08:02
#83
RE: F1 News and Translations - 2014
by
WHATEVER
03.02.2014 14:56
So even bitter-Massa was cautious enough not to rule Kimi out to fast...

#84
RE: F1 News and Translations - 2014
by
WHATEVER
03.02.2014 15:07
for the video Olga

When they say "history will be made" why is there a pic of Alo at the end?
#85
RE: F1 News and Translations - 2014
by
Olga
03.02.2014 15:30
do they put their stakes on Alo? we dont care!!


#86
RE: F1 News and Translations - 2014
by
Boudica
04.02.2014 10:25
Grosjean not tipping winner of Alonso-Raikkonen battle

Romain Grosjean is not so sure Fernando Alonso will have an easy time alongside new Ferrari teammate Kimi Raikkonen in 2013.
The Frenchman's comments follow those of Alonso's last teammate Felipe Massa this week, as the Brazilian tipped Alonso to be faster this year because he "combines talent with brains".
Grosjean, however, may also be well placed to comment, given that he too has been paired in F1 with both Alonso (2009) and more recently with Raikkonen at Lotus.
"Good luck to them!" he grinned to Brazil's Totalrace.
"They are two very strong personalities. It will be interesting," said Grosjean.
"Kimi is very much like Fernando in several respects. Both like to be number one, so we'll see what happens.
"If there is something I could learn from Kimi and Fernando it is that they never quit. Whenever they get into the car, they get 100 per cent from it, whether it is a good car, bad car, if it's dry, wet."
Meanwhile, the Finnish newspaper Turun Sanomat reports that Grosjean, 27, will no longer work with his manager Eric Boullier, after the former Lotus boss moved to McLaren.
The Lotus-linked management stable Gravity is now headed by Gerard Lopez, but correspondent Heikki Kulta cited sources in claiming Boullier's long-term successor will be appointed before the forthcoming Bahrain test.

http://www.f1zone.net/news/grosjean-not-..._medium=twitter
#87
RE: F1 News and Translations - 2014
by
momo
04.02.2014 11:07
quote

---

Exclusive: Double points rule is because Ferrari failing, says Eccelstone


by Christian Sylt
February 4, 2014, 12:40am

FORMULA ONE boss Bernie Ecclestone says he introduced controversial rules to award double points for the last race of the season in order to help Ferrari compete.

The oldest and most celebrated team on the grid have not won a world championship since 2007 – a predicament Ecclestone says contributed to his passing the rule, despite widespread opposition.

Ecclestone said of Ferrari chief Luca di Montezemolo: "He was talking about it and I said: 'It is very simple why we got that [rule]. It is because you aren't performing. If you were doing what you should be doing there wouldn't be any need for it.' He said: 'I know, I know.'"

The new rules, which take effect from this year and mean the season finale in Abu Dhabi is worth twice as many points as other races, mean there is a greater chance of an outsider snatching the title.

Red Bull's Sebastian Vettel has won four world championships in succession and clinched last year's crown three races before the end of the campaign.

Vettel has been one of the rule's biggest critics, calling it "absurd" as it "punishes those who have worked hard for a whole season", yet Ecclestone is pushing to extend it to the last three races.

That would need unanimous support but Red Bull boss Christian Horner is in favour as it would "take away an element of lottery over that last race".

- See more at: http://www.cityam.com/article/1391474430...S.a1MDpzrd.dpuf


---
#88
RE: F1 News and Translations - 2014
by
WHATEVER
04.02.2014 13:28
Now there's a lot more clever opinion on the ALO-RAI battle.

About the double points in the last three races, I say: Hec! Why not all races then...
#89
RE: F1 News and Translations - 2014
by
WHATEVER
07.02.2014 23:45
Thanks to Momo:

Lewis & Nico: Uncut & Off the Record
http://www.youtube.com/watch?v=-P-9oYUwA_E


#90
RE: F1 News and Translations - 2014
by
WHATEVER
08.02.2014 14:07
I heard Adrian Newey is re-designing this year's Red Bull. I know the guy is capable but I don't think he will be able to do that in 1 month