» Forum » Motorsport » F1 News and Translations - 2014
Page 10 of 12
#136
RE: F1 News and Translations - 2014
by
WHATEVER
28.06.2014 04:19


I'm sorry, I'm still laughing to the last paragraph...
#137
RE: F1 News and Translations - 2014
by
Olga
28.06.2014 09:13
just read it! its really funny!


what are these people thinking!



after Kimi retires...i'm not sure i'll be following f1 anymore...
#138
RE: F1 News and Translations - 2014
by
YiNing
08.07.2014 18:20
http://www.autosport.com/news/report.php/id/114881 I assumed all the Mercedes and RB are running this system? How about Ferrari?


quote

---

Formula 1's FRIC suspension systems set to be banned by FIA
By Jonathan Noble Tuesday, July 8th 2014, 16:02 GMT

Monaco Grand Prix start 2014

Formula 1's FRIC suspension systems, believed to be one of the strengths of the dominant Mercedes car, could be banned for the German Grand Prix, AUTOSPORT can reveal.

Less than a fortnight before the next race at Hockenheim, the FIA has informed F1 teams that it believes the Front-and-Rear Interconnected Suspension (FRIC) systems used by most of them are illegal.

CRAIG SCARBOROUGH: Secrets of suspension and FRIC

According to sources, the governing body wrote to teams on Tuesday to tell them that following detailed investigations into the design of the FRIC systems, it believes they are in contravention of the rules.

In the note, a copy of which has been seen by AUTOSPORT, Whiting said: "Having now seen and studied nearly every current design of front to rear linked suspension system we, the FIA, are formally of the view that the legality of all such systems could be called into question."

Whiting suggests that the way the suspension systems help control pitch and roll could be in breach of article 3.15 of F1's technical regulations.

Article 3.15 is the catch-all regulation that relates to moveable aerodynamic devices. It outlaws any part of the car that influences the aerodynamics that is not "rigidly secured to the entirely sprung part of the car (rigidly secured means not having any degree of freedom)."

The FRIC systems link the front and rear suspension to maintain a constant ride height for improved performance.

Lotus (then called Renault) was the first team to introduce the concept in 2008.

Mercedes more recently took the design to the next level and is now believed to run the most complicated system, however it is unclear which team would suffer the most from a ban.

FIA OPEN TO DELAY OF BAN UNTIL 2015

With limited testing time before the next race at Hockenheim, and 2014 designs being based around FRIC, the FIA is open to delaying the ban if there is consensus among teams.

It has asked teams to vote on whether or not they will be in favour of delaying the ban until the start of 2015 rather than it coming into force for the German GP.

However, for that to happen it would require unanimous support from all the teams on the grid.

It is unclear how easy it will be to achieve unanimous support for a delay - especially if any team feels its FRIC design is not as good as a rival's, or indeed if a team is not running the system at all.

If unanimous support is not reached, then Whiting has made it clear that from the next race in Germany, any team running FRIC risks being reported to the stewards by the FIA for non-compliance with the regulations.

The fact that the FIA has indicated it believes FRIC to be illegal also opens the door for a team to protest one of its rivals from the next race.

---
#139
RE: F1 News and Translations - 2014
by
WHATEVER
08.07.2014 21:37
Let's see what happens, I don't know if Ferrari has this
#140
RE: F1 News and Translations - 2014
by
miezicat
08.07.2014 22:13
Scarbs says all teams have it.
But they seem to have it differently so some teams might be more effected than others. Maybe Ferrari's is bad so they will be fine

I wonder though how easy that is to remove or turn off or whatever?
#141
RE: F1 News and Translations - 2014
by
YiNing
09.07.2014 09:27
http://www.grandprix247.com/2014/07/09/f...and+Prix+247%29


quote

---

FRIC ban may end Mercedes dominance
9 July, 2014

If the latest developments in Formula 1 are any indication, the Mercedes' utter dominance might not last for too much longer.

Last year, we reported that a secret under the skin of the silver car is: FRIC – standing for front and rear interconnected.

Emulating active suspension, the system is now widespread up and down the pitlane, but the FIA's Charlie Whiting has sent a letter to teams warning that FRIC's legality could be called into question.

An immediate ban is reportedly on the cards. And that is not all. The Spanish sports newspaper Marca reports that the FIA is also considering clamping down on the rate and flow of hybrid power from the new 2014 V6 turbo power units.

A source was quoted as saying that while the actual combustion engines produced by Mercedes, Ferrari and Renault this year are remarkably close in performance, the big advantage enjoyed by Mercedes is in the 'hybrid' areas.

The source said Mercedes' advantage could be as much as "between 110 to 130 horse power on the straights".

Finally, Mercedes could be set to lose a first-lap advantage over its rivals, after Williams' Felipe Massa complained about the behaviour of the silver cars on the formation lap at Silverstone.

"I had to stop twice, pulling in the clutch," the Brazilian is quoted by Spain's sports daily AS. "They're doing it [driving slowly] for some reason. We always complain, and Charlie said he was going to fix it, but no one has been penalised yet," Massa added. (GMM)

---
#142
RE: F1 News and Translations - 2014
by
YiNing
09.07.2014 11:02
18-inch concept tyres on the Lotus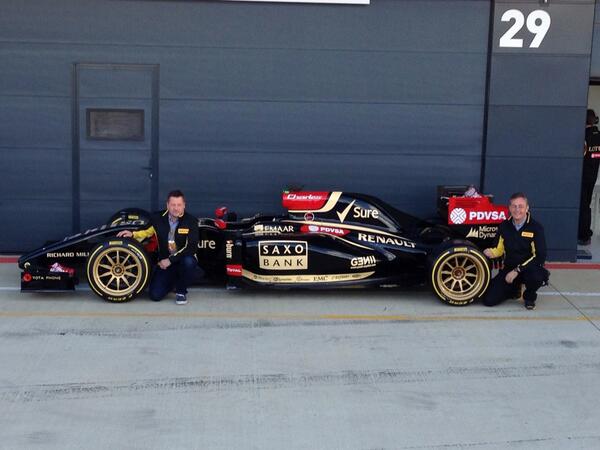 #143
RE: F1 News and Translations - 2014
by
YiNing
09.07.2014 14:43
quote

---

Technical analysis: The implications of a FRIC ban in F1
By Craig Scarborough Wednesday, July 9th 2014, 11:45 GMT

Following the British Grand Prix, Formula 1 teams received an FIA technical directive that aims to ban hydraulically interconnected suspension, better known as FRIC.

While not coming completely out of the blue, as the FIA had plans in place to ban the system as part of the cost-cutting measures, the urgency in the technical directive did come as a surprise.

F1 teams need to unanimously agree to run the system until the end of the year, or it will be banned for the next race in Germany in just under two weeks' time. This presents the F1 pack with a huge technical hurdle to overcome - potentially within a very short timescale.
1398352440.jpg - Bild entfernt (keine Rechte)
Secrets of F1 suspension: active and FRIC

FRIC has been around F1 for a long time - its earliest incarnations predate the active suspension era and its latest generation has been on the cars since 2008.

Now every team has a system of some description, although several teams are still in their first year or two of experience of the set-up.

Those teams that adopted the system early, such as Lotus, Mercedes, Ferrari and Marussia, have the car's design fully adapted to the slightly different mechanics of the FRIC.

In most cases teams have replaced the third heave element on each end of the car with a hydraulic element. The chambers in the telescopic device compress hydraulic fluid that passes along the car, through valves and accumulators to a matching device at the other end of the car.

Removing the system and replacing it with an unconnected set-up is not quite as simple as it sounds. The car's ride height, mechanical and aero set-up will all need to change.

The teams with suspension fully optimised around the FRIC design do not necessarily have the mounting points for a full complement of side, heave and roll elements that an unconnected system requires. There may not be the space or sufficient hard points inside the car to create these at short notice.

As a result the extremely low ride heights at the front of the car, which FRIC allows teams to run, will have to be compromised. A raised front ride height is required to keep the splitter and plank off the track and avoid them suffering excessive wear.

With these higher ride-heights the cars' front wing and underbody will need to be changed. Different specifications of wing and floor are designed for specific ride height ranges, and as the car will have to run higher, the bodywork will need optimising to cope with this. Otherwise the car will lose downforce and suffer balance changes at different speeds.

It could be argued that a rushed FRIC ban will be unsafe, but it is probably more fair to say that the change will compromise cars' handling and teams' ability to predict it. But there should not be the dramatic effect seen when active suspension was banned for 1994.

In any rule change there will be winners and losers, and the teams mentioned above with more time and car design invested in FRIC will suffer the most. Those on the initial learning curve will be able to step back earlier and will most likely have the car equipped to run without FRIC anyway.

As a ban under the cost cutting measures was already mooted, some teams had already commenced a test programme to research their car's performance without FRIC. This could help them if a unanimous decision cannot be reached and the ban is applied with immediate effect.

As always with F1 it is the teams with resources and budget that will adapt to the change quickest regardless of their FRIC status.

It is unlikely to knock Mercedes' dominance of the sport this year, nor have a huge effect on the running order behind it.

---
#144
RE: F1 News and Translations - 2014
by
miezicat
11.09.2014 18:13
http://www.autosport.com/news/report.php/id/115804

quote

---

FIA goes ahead with Formula 1 team radio clampdown

The FIA confirmed on Thursday that Formula 1 teams are now banned from all forms of radio transmission that help with car or driver performance, as revealed by AUTOSPORT.

Following discussions at last week's F1 Strategy Group meeting, the FIA was asked to look into ways of limiting radio discussions as part of a push to make drivers work harder.

F1 race director Charlie Whiting has now written to teams to make it clear that there will be a dramatic cut in what teams are allowed to say from now on.

Prost: Radio messages hurting F1's image

In a technical directive that was sent to F1 teams on Wednesday night, he said that no conversations will be allowed that assist a driver with his speed.

This means, for example, advice from the pitwall on where laptime is being lost and where a team-mate is doing better, such as has been common at Mercedes, will now be illegal.

The change is being implemented through a strict enforcement of Article 20.1 of F1's sporting regulations which states: "The driver must drive the car alone and unaided."

The message issued to the teams read: "In order to ensure that the requirements of Article 20.1 of the F1 sporting regulations are respected at all times FIA intends to rigorously enforce this regulation with immediate effect.

"Therefore, no radio conversation from pit to driver may include any information that is related to the performance of the car or driver."

"FIA should also remind you that data transmission from pit to car is specifically prohibited by Article 8.5.2 of the F1 technical regulations."

The enforcement of the article still leaves the way open for teams to advise drivers on pitstop strategies, plus safety issues.

It will also ensure that the dramatic radio conversations from drivers, which have proved popular with fans, remain.

---

http://www.autosport.com/news/report.php/id/115812

quote

---

Analysis: The impact of Formula 1's team radio clampdown

Formula 1's decision to impose a major clampdown on team radio has divided opinion.

On one side, there are those - like Bernie Ecclestone - who feel that constant radio instructions from the pits have made the drivers appear to be nothing more than puppets.

On the other hand, some suggest that F1 is and always has been about teams and drivers, and there are a number of fans who revel in the constant communication between cockpit and pitwall.

But irrespective of the rights and wrongs, F1 race director Charlie Whiting's technical directive to the teams banning all forms of "information that is related to the performance of the car or driver" is going to make a change.

MORE WORK FOR DRIVERS

Teams are not only going to have to change their protocol from the pits, but there is now going to be much more emphasis on the driver - which is the aim.

Comparisons of laptime performance with rivals, and working out where improvements can be made, will now have to wait until they return to the pits.

This should play in to the hands of drivers who can naturally find the limit, rather than working out with live telemetry advice how to find more speed.

There will also be more demands on the driver to take note of information from LCD displays on the steering wheel - which will play to those drivers better able to multi-task in the cockpit.

Interestingly, not all teams opted for the larger LCD display screens on offer this season.

So those outfits running the minimalist version - like Red Bull, Williams and Lotus - will either have to consider a switch of design or face leaving their drivers with less information.

Lotus head of trackside operations Alan Permane said: "We don't have the huge screen - and I would guess there are other teams that don't have it - so it could put us at a significant disadvantage."

One way for teams to get around the restrictions may be through the use of codewords, as was the case during the team orders ban.

When asked if this was likely, McLaren racing director Eric Boullier said: "Of course. I am sure 'the sky is blue' will be a message. Maybe we will be asked what it means, but I am pretty sure there will be some code..."

It is unclear at this stage whether the FIA will rule that even codewords advising drivers are a breach of the rules.

THE PERFORMANCE IMPACT

While the team radio ban will hurt those drivers who relied more on information from the pits, it is unlikely to result in a radical shake-up in performance.

Permane underlined that a constant information stream from the pits was not to every driver's taste.

"Some drivers respond really well to that, but others don't want to hear anything at all," he said.
Alan Permane

"I would say our two are kind of neutral on it. They would much rather look at a graphic overlay between runs.

"I know Mercedes tends to tell their drivers on in-laps that this is where they are losing out.

"I can see that that is maybe undesirable to some - but honestly it will not change a great deal."

But even if the grid is not shaken up, the change should help with some of F1's image problems.

As Boullier says, a lot of F1's popularity problems this year relate to perception - like the cars being easier to drive - so any change that makes it more obvious how hard things are for the current drivers is a bonus.

"If, by actually having opened up the broadcasting radio messages we have changed the perception, and the drivers have lost their superstar status, then we have to think about it," he said.

"Because it is not true. F1 is still F1. It is still 350km/h, which is fast.

"You still need to drive this car to the limit. You can make the car harder to drive or more physical to drive, but it is perception. We need to change the messaging."

And, quite literally, that is exactly what is happening for Singapore.

---


I first thought this is good idea as the messages were getting annoying. I blame Mercedes for their constant telling their drivers how to drive the car
but FIA went too far

quote

---

Tobias Grüner F1 @tgruener

#F1 FIA race director Charlie Whiting answers urgent questions about new radio rules for Singapore. AMuS (German): ams.to/Rb

#F1 Not allowed anymore: Info about tyres/brake condition, fuel consumption, engine maps, ERS mode, fuel mix, diff settings. #NewRadioRules

#F1 Also not allowed: formation lap instructions to prepare race start - burnouts, gearbox sync, bite point, brake/tyre temps

#F1 Still allowed are informations & instructions regarding traffic, pit stop timing and team order.


---
further Charlie said:
penalties will be down to the stewards, probably sporting penalty than money.
ban will be for whole weekend not only the race

I wonder how teams will get around this, with code messages or putting on pit board? (which would be strange if then allowed but
) because clearly the drivers can't know all the engine maps and whatever settings they have.. especially if he has to change when there is a problem.
sure they could say in that case it's allowed but how do you define that?
and apparently the driver can still say and ask what he wants while yes or no answer from pit will be allowed.. well we will hear lots of questions then

#145
RE: F1 News and Translations - 2014
by
Olga
11.09.2014 18:32
It is confusing indeed... Let's see how the drivers will take it, I guess Kimi will have the least trouble
#146
RE: F1 News and Translations - 2014
by
Spinster
12.09.2014 20:16
He will be the best in it, just helmet on n race!!! Its really awesome news... Wondering how massa, alonso n hamilton will survive
#147
RE: F1 News and Translations - 2014
by
Olga
13.09.2014 08:29
Massa


..and the others too!
#148
RE: F1 News and Translations - 2014
by
Appletree
13.09.2014 10:39
Lets see...


FOM official transcript of Singapore gp 21.9.2014


Warming lap..

Massa : err..its a warm evening isnt it? unnamed: yes, very warm, we think its about+ 80C. Ideal weather.
Hamilton: so...its a warm evening guys race engineer: yep, buns are in the oven.
Hamilton: wtf? Is Nicole pregnant? race engineer: oh, ****. yes , its a warm evening, ideal evening.
Rosberg: Am I ready? race engineer: depends what you are talking about.
Rosberg: Ha ha guys. Were you awake in race meeting? race engineer: you are ready
Alonso: My bicycle was wabling in the other day race engineer: the evening is a bit cold. I think it should warm about 5 degrees we are fine.
err..sorry about your bicycle.
Kimi: ...... race engineer: Minttu is a hot chick
Kimi: wtf? race engineer: ...not so hot anymore
Kimi : WTF ? race engineer: buns are in the oven
Kimi: yes, yes, yes, I know what I have been doing
rage engineer to Vettel: we think your too electrical this evening
Vettel: again?
Ricciardo: I am too good to be true race engineer: cool down guy, cool down

During the race it emerges the radio silence is a relative matter, but the the teams messages were disturbingly similar with all the cars except Kimi. He didnt say a word.
a few messages were taken to air just to show spectators a few examples:

Massa: Anyone? Hey, guys, anyone there? sing me something, mam? on lap 25 Massa drove out. He didnt hurt himself but the safety car had to come out. Massa said he didnt know where the track is turning.
Rosberg: I feel I could spear someone on lap 24 when trailing Hamilton. race engineer:only your wife , pal
Hamilton: I feel pressure in my butt race engineer: we go to the toilet together after the race
Ricciardo: There is flies between my teeths race engineer: maybe turning the visor down helps
Alonso: My path is so difficult with you race engineer: then there is left path to choose
Bottas: I am coming in race engineer: deeper, deeper and slower

After the race FOM saw that it needs another transcription of race transcription to judge if there had been briech of rules within all teams. Also the FOM saw a few messages contained too intimet information for family program.
#149
RE: F1 News and Translations - 2014
by
WHATEVER
13.09.2014 13:45
#150
RE: F1 News and Translations - 2014
by
Olga
15.09.2014 15:43
. All