Ľ Forum Ľ Motorsport Ľ Iceman 2015
Page 11 of 23
#151
RE: Iceman 2015
by
Jalumi
18.06.2015 18:34
Can we please soon have a report about a new contract?


quote

---

Raikkonen: It's Ferrari or nothing for me in F1

By: Jonathan Noble, Formula 1 Editor
42 minutes ago

Kimi Raikkonen has admitted that it is Ferrari or nothing for him in Formula 1 next year, as he hit out at reports he will have to take a pay cut to stay in 2016.

The Finn's current contract with the Maranello team runs out at the end of this year, but Ferrari has an option to extend it if it wishes to.

Raikkonen has said that he has not yet had any indication from Ferrari management about its intentions, but says that he is far from concerned about the situation.

"They have a contract, they have to sign it and it is as simple as that," said Raikkonen in Austria. "It is not my decision and you have to ask the team.

"If I am not with Ferrari, I am not with any team - it is as simple as that. You guys worry about it more than me.

"I always said it is not the end of my life if I don't race next year but obviously I want to be here.

"I think the team is definitely going in the right direction, and I am sure in the future we can really be the team to beat. We have to still work though to improve things."

Salary claims rubbish

Raikkonen was upset, however, at suggestions that emerged in the Italian media claiming that he would have to accept a pay cut if he was to get a fresh deal.......



---
#152
RE: Iceman 2015
by
WHATEVER
18.06.2015 22:56
#153
RE: Iceman 2015
by
Jalumi
21.06.2015 13:57
Happy first father day Kimi! Show them daddy!!!


Robin


CIBI1DRVAAAT67o.jpg - Bild entfernt (keine Rechte)
#154
RE: Iceman 2015
by
claudie
22.06.2015 21:31
Cute little happy boy
#155
RE: Iceman 2015
by
miezicat
26.06.2015 23:45
Kimi at Goodwood Festival of Speed today
and he was in good mood

two videos:
https://vid.me/9UL8
https://t.co/n3mIdGokee


quote

---

Kimi: ďgood to get youngsters close to the sportĒ

Goodwood, 26June Ė Kimi Raikkonen has spent a very busy day at a venue that is dear to all car lovers. The Finn first stopped off at a Shell service station, carrying out some promotional activities for the Scuderia Ferrari sponsor. Then he headed to Goodwood, where he tackled the famous hillclimb at the wheel of an F10. Kimi also took time to greet the many fans attending the event, as well as Prancing Horse owners.ďItís the second time Iíve come to Goodwood and I reckon itís a very nice event, always well organised. I met a lot of youngsters this time and itís definitely a good thing to get them closer to the sport,Ē commented Kimi as he saluted the fans before leaving.

---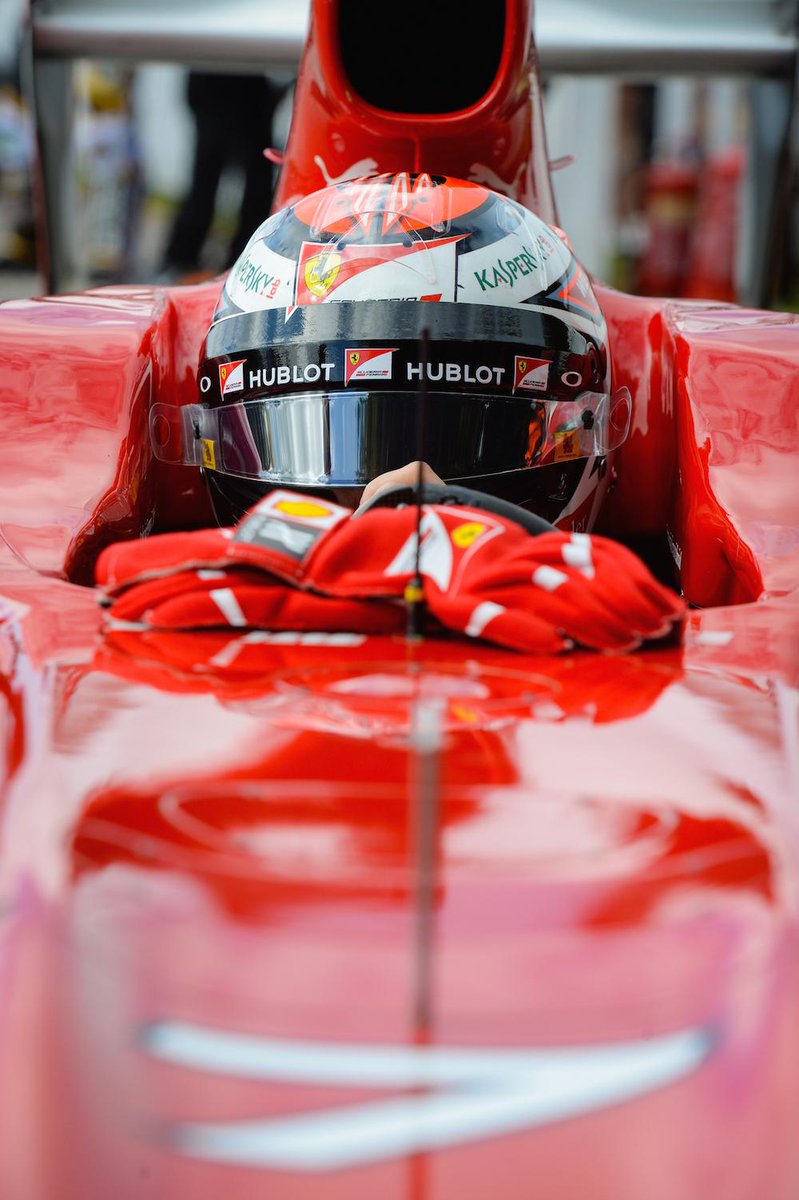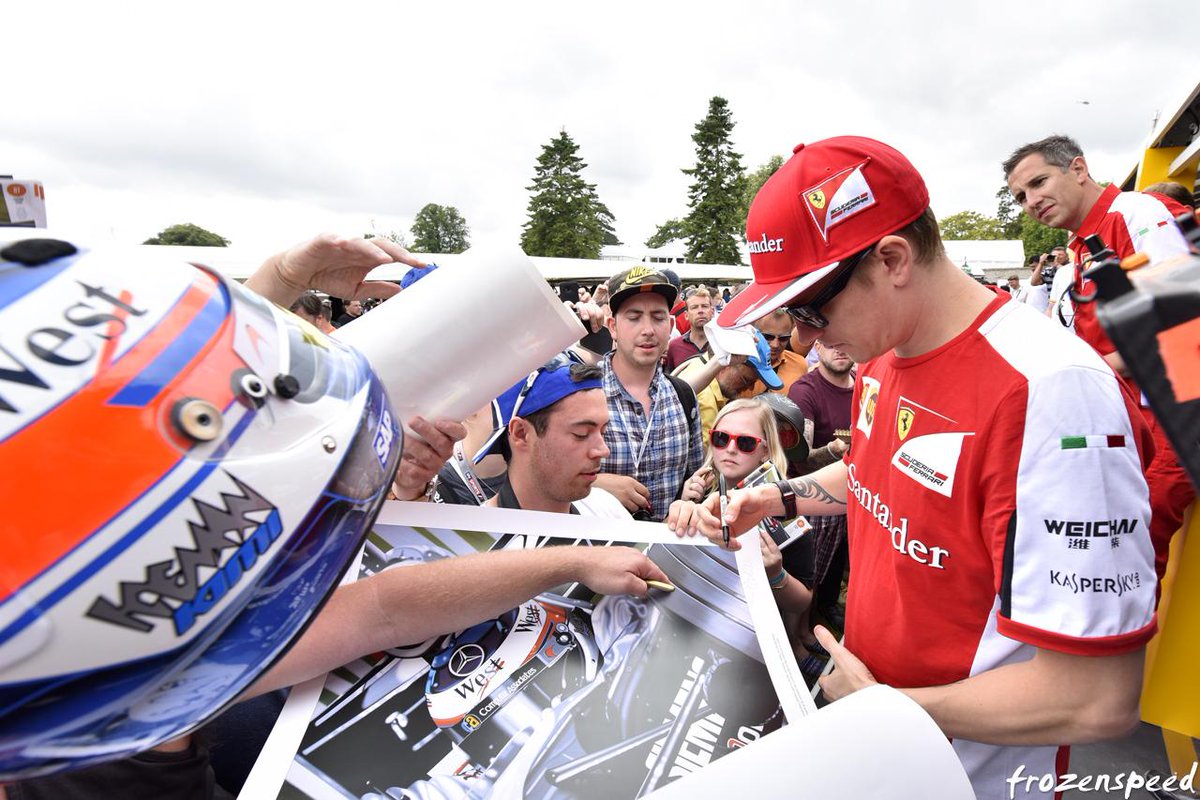 #156
RE: Iceman 2015
by
Sonny
27.06.2015 09:08
for the Post, Miezi. I wish that good mood would translate into race weekends. I get the feeling that Kimi is really starting to feel the pressure.. And I think it's modern day Formula 1. I think there was a Formula 1 prior to Brake by Wire, Pirelli tyres, and Turbo Engines that Kimi really excelled in. And I don't think the modern day "Formula" gives him the best feeling. I just
that he can bring that happiness and confidence into the weekends and start to deliver the results we all know he is capable of. He truly deserves one more year of showing his true potential. I've seen old videos.. this guy is pure magic when he gets it all right. He just isn't feeling comfortable right now..
#157
RE: Iceman 2015
by
Bradamante
27.06.2015 10:59
http://crash-and-burn-f1.tumblr.com/post...015-david-croft
I think that man was not the only one who cried after the GP.
#158
RE: Iceman 2015
by
miezicat
27.06.2015 18:55
FoS Behind The Scenes Ė Who Says Kimi Raikkonen Never Smiles?

Itís often said that Kimi Raikkonen is a completely different character when the cameras are turned off, but, thanks to our very own Lord March, we can now show you that side of the 2007 F1 World Champion.

Filmed yesterday when Kimi headed to Goodwood House to meet the FoS founder and Ken Block after his trip up the hill in a 2010 Ferrari on behalf of Shell. We wonít spoil the video, but prepare to see a very happy Kimi chatting about F1 and the potential of driving with the Hoonigan one day.

Read more at https://grrc.goodwood.com/festival-of-sp...ciXosMS8ScSK.99

Kimi doesn't know which car he was driving
#159
RE: Iceman 2015
by
miezicat
27.06.2015 18:59
Tuttosport, 20.6.2015 RAIKKONEN EXCLUSIVE

"Ferrari is a family. And I want to be part of it.."
"How I would like Formula 1? More simple, fast and.. dangerous."
Raikkonen open-hearted. "I'm not out, I believe in the project in 2016 and would like to stay here. Otherwise I'll stop."


Me and the drivers association "I donít take part. It can give advice but has no power to change things."
Me and Seb "We are friends. Better this way than two drivers who think for themselves."
Me and the team - "People are more or less the same, but the atmosphere is different."
Me and social networks - "Actually I send only text messages. And I have a very simple phone."

Kimi Tuttosport.jpg - Bild entfernt (keine Rechte)
When it comes to Kimi Raikkonen, clichés are wasted. Sometimes he spoken of with irony, on the web they revel in his radio messages. Sometimes laconic, sometimes politically incorrect. The best thing is to speak with him, rather than of him. To find out, if it was not already clear, that they are many and various aspects that regard him. Outside of the track has a direct approach, quite simple. On track .. Well, on track must remember that he won a world title, his records mark 220 races, 20 victories, 78 podiums. He raced for big teams (McLaren and Ferrari) and when, after a period of sabbatical, he returned with a "small" team (Lotus), he unexpectedly got two wins. Today doesnít hesitate to get something off his chest, with 35 years he can do it. But he can also show a new side, even likeable.

Kimi, we leave aside the question of contract. This year, despite ups and downs, you have a better performance. What has changed, a different approach to the races?

None of that. My approach is always the same. The fact is that the car has made a big step forward. Also they have changed things in the team. The whole team is working in the same direction. And I feel very good.

You are a very skilled driver to use the tires. This year the tires are, as you say, more "consistent". Maybe for you it was better before ..

I donít believe. Using the tires it depends a lot on the conditions in which you are driving, the temperature. I sometimes prefer very hot and very difficult conditions, it is true. But I think our car is good enough to work in all conditions.

In qualifying, however, you have suffered a bit. In general itís Ferrari that suffers a bit. And the problem seems to be the tires.

Again, it depends on the conditions. But I, in the last race, experienced the best qualifying for a long time now. We are learning a lot about how to use the tires. Sometimes just small things, but completely change the picture of what you're doing. However, I am happy with the way we are going.

It says that you're friends and Vettel. Confirm? And then: do you need to be friends in Formula 1? Some think not.

I confirm that we are friends. If itís useful .. Well, I think yes, but every team does as it pleases. I believe that when two people have to exchange much information is better if you are on good terms. And it's better for the team. The constant fight seems worse. I prefer a relationship of this type. Today in Ferrari there is a kind of "family feeling" that was not there before.

The team principal, Arrivabene, often insists on the need to team up. What do you think.

I am sure that Maurizio is right. If you look, more or less the team is always the same. But the key factor is that the atmosphere has changed completely. People now are happy, everyone works together, all going in the same direction. There is no one who works here, one who works there. And then, yes, people matter. But Ferrari is first. Ferrari is Ferrari.

However, apart from the team, it seems that sometimes you donít like this Formula 1 much.

When you see that in Monte Carlo GP2 cars are only 4 seconds slower, you wonder if something is wrong. They spend millions and millions to build two cars.. And it continues. I ask myself how long.

It was up to you what would you change?

It doesnít depend on me, and itís not the drivers who write the rules. But, of course, I would like a faster and more simple Formula 1 car, with a lot of horsepower and much grip.

You recently said you liked the cars of the past, even if more danger.

I liked more the cars from the early Noughties. There were great races, more fun for drivers and spectators. And you could overtake without the need for DRS. Itís true, there was more danger. But many more emotions.

By the way, many praise the 24 Hours of Le Mans. And some of your colleagues would like to drive. You, in your period of absence, drove rally, Nascar. What do you think of the French race?

Well, meanwhile it's not that Iím out of Formula 1. In general, I donít care to drive just to drive. I want to do it if I can be in a great team, going down to the track for the goals that I like. And I would like to stay here in Ferrari. If I have to stop it wonít be the end of the world.

Do you think you can fight for the title? And this year, you think there is a place to win again?

Sebastian won, I finished second. The Mercedes is very strong, but we're catching up, we go in the right direction. Yes, I am convinced that we can still win. Regarding 2016, it depends on the quality of our work. I am optimistic, I see growth.

You recently said that you would not want your son to be a driver. Is it so?

I didn't really say that. I said that I wonít be one of those fathers who push in a direction, putting his son in the kart already small. If, at a certain age, he will want to follow in my footsteps, of course I would support him.

The GPDA has organized an online survey to learn more about the fans, know what they want and what they think. You agree?

The drivers association? I donít belong.

This is known.

However it seems to me a good initiative. But, as I said, are not the drivers who can write the rules. Neither have the power to change them. At most can express an opinion. And then .. This you canít say, that you canít say ..

About fans and GPDA, you frequent social media?

Social media? Twitter? No, I communicate with text messages. Iím using the phone in a very simple way. I show you? No, we believe.
#160
RE: Iceman 2015
by
Denorth
27.06.2015 20:35
I have a feeling that Ferrari 'punished' Kimi by making him going to FoS because he was rude about it when asked couple of weeks ago (remember, when he said - look for answers in internet)
#161
RE: Iceman 2015
by
Jalumi
28.06.2015 09:02

I don´t think so. They are all busy. Seb will be today in Hungary on a show run. JEV drove with Formula E in London and Guti made the tests in Austria this week.

I´m not sure if it would be a good idea to send Kimi to a place against his will.
On the pictures he looked happy and in a good mood.


for the translation Miezi
#162
RE: Iceman 2015
by
WHATEVER
29.06.2015 15:56
#163
RE: Iceman 2015
by
jpp47
30.06.2015 18:03
I have a feeling (wrong I hope) that Kimi's time with Ferrari will end up at the end of this season. If so I'll have to live with all the good memories I have about Kimi's nice and good F1 seasons the latest one being his 1st year with Lotus when he returned to F1.
#164
RE: Iceman 2015
by
miezicat
05.07.2015 23:20
bams5715.jpg - Bild entfernt (keine Rechte)

quote

---

Maybe I will be house husband after my career

For Kimi Raikkonen interviews are as popular as dental visits. But when the Iceman thaws, he can be a genuinely nice guy. Here he speaks about his future in Formula 1 and his life as a family man

Mr Räikkönen, your contract with Ferrari runs out, it is not certain whether you will be in F1 next year. Do you have plans already for the time after F1?

Kimi Raikkonen (35): I have no plan what will happen after Ferrari. Or how my life then might look like. That also didnít have six years ago when I left F1 the first time. I was somehow up to do a bit of rally driving but there was no long-term plan behind.

You are not without controversy at Ferrari even though you currently the most popular driver. That has said a survey of 200 000 fans. How do you explain your popularity?

Itís good that they like me. But how should I explain? You have to ask the people out there. They have voted. Definitely nice that I have fans.

Lewis Hamilton got a stylist to look better in the paddock. He is posting almost daily photos from his private life to get more fans. You actually do nothing ...

How you want to know that? (He refrains a smile) I'm just doing what I want. If someone finds that stupid, okay. Everyone has the right to hate or to like me. I donít try to make people like me with any stupid scams, I donít suck up to anybody. But as I said: I find it nice that some people like me. I would like to give them better results soon, then also I would be happier.

Do you give thought to your future a lot?

That's just part of the game for that you have decided at one point. Itís in Ferraris hand if Iím still here next year.

Is a cockpit in Formula E an option?

That doesnít interest me especially. They have indeed managed to go to good places in the world with their races. But it doesnít look spectacular and for me they are just too slow. Just not exciting enough.

Do you want to travel less in the future to spent more time with your baby and your fiancé Minttu?

When I donít drive races anymore I will no longer be traveling to races.

Kimi as househusband, wife works again as a sports trainer?

Of course I could be home, I would have absolutely no problem! Because I totally like being at home! Basically I travelled all my life so that might be really nice.

We know roughly how your everyday life looks at the track. But how is Kimi Räikkönen at home?

There Iím doing probably the same as you do. And now Iím even changing diapers! Not often, but in emergencies.

Your fastest nappy pitstop?

I have no record time. Itís only important that you do it quickly otherwise little accidents can happen.

Does little Robin cost you a lot of sleep?

No, not at all. Actually he usually sleeps through already. Thank God.

Michael Schumacher has never shown his children in public out of fear of possible kidnappings. Your fiancée is posting photos of your baby open to the public Internet. How do you protect your little family?

We decided consciously to show some pictures. Because we get photographed anyway in the end. But sure, I am always a bit worried about my child, there happens so much in the world. It is not stupid, to give some thoughts and make preventions. But I will now not publicly say how I protect them.

Did your baby boy made you to a different Kimi?

My life is now as a father more beautiful than before. I'm simply trying to be a good father. But the little one is still so small. He only looks, sleeps and eats. My life surely will change a lot when Robin will run around and make nonsense. That's all very exciting.

Do you want more children?

Will we see. Also for the family size I donít have a plan in mind.

---
#165
RE: Iceman 2015
by
WHATEVER
06.07.2015 15:24
Gotta love this guy

Thank you Miezi for posting such a nice interview.